Dimensions
6'2" W X 4'3" D X 5'1.5" H
Usage
Best for mid-sized restaurants and companies with up to 100 employees
Capacity
24 large trash bags or 800 lbs
Services Included
Flexible delivery
Simplified account management
Expert customer care
*Before ordering a dumpster, check the dimensions of the space where you plan on placing it to ensure it will fit.
Explore Our Dumpster Sizing
From apartment buildings to retail stores, we offer a wide variety of commercial dumpster sizing designed to fit your business' specific waste needs.
Using a 4-Yard Commercial Dumpster in Four Easy Steps
Find the right solution

If you know the dumpster size and pickup frequency you'll need, you can use our online quote tool to receive detailed pricing and rates. Not sure what size dumpster would work best? Contact us today for more info.

Flexibility to meet your needs

We know your business' waste needs are a top priority. That's why we offer flexible short and long-term service agreements tailored to your budget and waste output.

Get your dumpster delivered

Once you've found the waste solution that fits, our employees will deliver the container safely to your worksite or business location in a timeline that works for you.

Simplified support 

Our call center offers live support when you need it. From updating your account to responding to changing business needs, we make continued support easier than ever.
Prohibited Items and Materials
Radioactive, explosive, toxic, and other hazardous materials are not safe to dispose of in your 4-yard dumpster. Examples of prohibited waste include:
Flammable/Explosive Items

Batteries, Fuels, and Oils

Industrial Waste and Liquids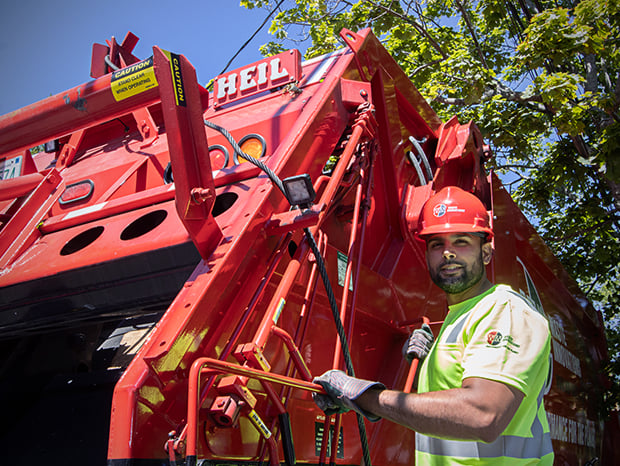 Why Choose WIN Waste Innovations?
We think beyond the one-size-fits-all approach to provide you with waste removal that's tailored to your specific needs. From flexible account management to customer support from real humans, we're here to help you get the job done.
See Our Story

The Right Dumpster to Fit Your Budget and Meet Your Needs
Our dumpsters are sturdy in design and come in a range of sizes to fit any job or business.
Commercial Dumpster FAQs
Common answers to questions related to commercial dumpster services.
WIN Waste Innovations' commercial 4-yard dumpster is ideal for waste from restaurants, retail stores, or smaller companies. This waste can include non-hazardous items such as:
Household and office trash
Organic waste (food)
Recyclable items (paper, plastic, cardboard, metal)
For questions regarding a specific waste item that wasn't listed above, please contact us for more information.
With a capacity of 24 large trash bags or 800 pounds of waste, a 4-yard dumpster is ideal for mid-sized restaurants and companies with up to 100 employees.
Hazardous, toxic, radioactive, volatile, corrosive, highly flammable, explosive, biomedical, or infectious waste are never acceptable for a 4-yard dumpster. Examples include:
Aerosol cans
Liquids
Appliances
Asbestos
Batteries
Chemical products
Computers
Fluorescent bulbs
Medical waste
Propane tanks
Tires
Demolition/construction materials
Contact us if you're looking for a safe way to dispose of hazardous items like those above.
For removal of construction debris or appliances, we recommend renting one of our durable and convenient roll-off dumpsters. If you have an upcoming project, explore our roll-off dumpster sizing.
In order for our team to provide waste pickup, we require that containers are properly closed. If you're unable to close your container and find that your waste needs have changed, you can order a larger dumpster. If you have a specific item too bulky to dispose of, you can contact us to speak with one of our expert customer care agents. Our representatives will guide you on how to schedule a special pick-up or find a drop-off location near you.
If there's any waste piled above the height of the 4-yard dumpster, it must be rearranged in order for our team to safely and legally haul it. Failing to remove excess waste surrounding the dumpster, container lid, or anything preventing the container from closing could lead to an additional charge or an incomplete service. If you have questions regarding excess dumpster waste, contact us for help.
Your waste pickup schedule is dependent on location. For scheduling questions, please contact us for more details.
Our 4-yard dumpster also comes with support when you need it thanks to our expert customer care agents. In addition to live help, you'll also receive free container delivery included with your purchase at no additional charge.
To prepare for your dumpster delivery, it's important to know where you want to place it.
Pay close attention to the dimensions of the dumpster you plan on ordering and double check the dimensions of the space where you plan to store it. You want to place your dumpster in a flat area with at least 2 feet of clearance around each side, 30 feet of unobstructed clearance height, and 40 feet of unobstructed clearance in front of the dumpster to allow for pickup.
Make sure that the driver can access the delivery area, whether that means opening gates or unlocking restricted areas. Also remove any objects that might obstruct your dumpster delivery, including automobiles and bikes.