Dimensions
23' L x 8' W x 5'10" H
Usage
Best for mid-sized renovation projects and junk removal
Capacity
180 large trash bags, or
14 pickup truck loads
Services Included
Reliable delivery and pickup
Convenient scheduling
World-class customer care
*Before ordering a dumpster, check the dimensions of the space where you plan on placing it to ensure it will fit.
Size Up Our Roll-Off Dumpsters
Compare our available roll-off dumpsters to find the right size for your project, or call us for a recommendation. Pricing and availability varies by region, please fill out the Get a Quote form to see what is available in your area.
Using a 30-Yard Roll-Off Dumpster in Four Easy Steps
Check pricing and availability

Use our online quote tool to check roll-off dumpster pricing and availability. We'll get in touch to make sure you have your dumpster when you need it. Not sure what size dumpster would work best? Contact us today for more info.

Prepare for your delivery 

We understand that a lot of the time, your project is a major priority. That's why our team will work with you to find a dumpster delivery time that fits your schedule. Learn more about preparing for delivery in the FAQs.

Load up your dumpster 

Load (but don't overload) your dumpster with trash, debris, or construction materials. WIN Waste Innovations' dumpsters are made to handle it all.

Schedule a pickup

When you're done with your 30-yard roll-off dumpster, just contact us via phone, text, email, or chat and we'll come get it. You can also preschedule your pickup for added convenience.
Prohibited Items and Materials
Radioactive, explosive, toxic, and other hazardous materials are not safe to dispose of in your 30-yard roll-off dumpster. Examples of prohibited waste include:
Flammable/Explosive Items

Batteries, Fuels, and Oils

Industrial Waste and Liquids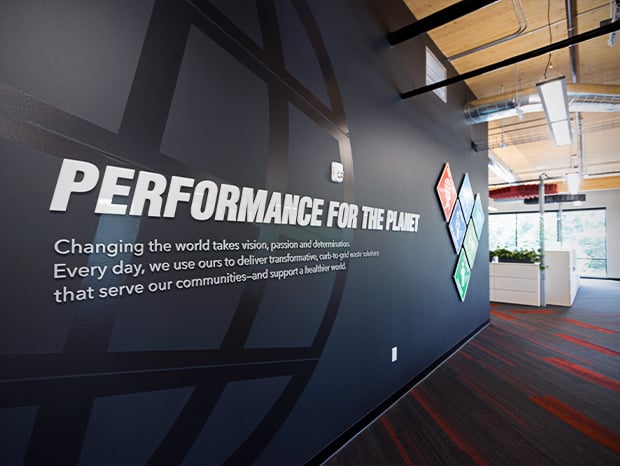 Why Choose WIN Waste Innovations?
At WIN Waste Innovations, we're redefining the industry through unmatched customer care, the dependable performance you need to get the job done right, and an unwavering commitment to sustainability at every step.
Learn More

The Right Dumpster to Meet Your Needs
Our roll-off dumpsters deliver the rugged performance and wide range of sizes you need to get the job done on projects big and small.
Roll-Off Dumpster FAQs
Answers to common questions about WIN Waste Innovations' roll-off dumpster services.
Hazardous, toxic, radioactive, volatile, corrosive, highly flammable, explosive, biomedical, or infectious waste are never acceptable for a 30-yard roll-off dumpster. Examples include:
Aerosol cans
Liquids
Appliances
Asbestos
Batteries
Chemical products
Computers
Fluorescent bulbs
Medical waste
Propane tanks
Tires
Dirt
Contact us if you're looking for a safe way to dispose of hazardous items like those above. For removal of construction debris or appliances, we recommend renting one of our durable and convenient roll-off dumpsters.
Roll-off dumpsters are sized based on how many cubic yards of waste they hold (so a 30-yard roll-off dumpster holds 30 cubic yards of waste). The dumpster comparison above can help you select the right dumpster for the job. And as always, our team is here to answer any questions you have or make a recommendation for your project. Just reach out to one of our expert customer care agents for further questions.
Pricing is determined by the roll-off dumpster size, type of debris (heavier materials or certain types of waste can increase cost), length of the rental, distance to the nearest landfill or transfer station, and any additional fees (landfill fees, city-specific fees, etc.). Contact us to get in touch with an expert customer care agent for help finding the most cost-effective option for your project and needs.
Depends on where you plan on putting it. Typically, you only need a permit if you're placing your roll-off dumpster on public property (in the street, directly on a sidewalk, or on any other type of public property). If you're placing your roll-off dumpster in your driveway or a privately owned space, you usually don't need a permit.
It's important that you don't overload your roll-off dumpster, as an overloaded dumpster can be dangerous to pick up and transport. A roll-off dumpster should never be filled above the height of the walls. Our roll-off dumpsters have a fill line. If the debris in the dumpster extends past the fill line, rearrange the dumpster so it can be transported legally and safely. You should also consider the weight of the material you plan on loading into the dumpster, as excessive weight can create unsafe conditions and result in additional fees.
If you have any questions or concerns about the amount or weight of debris that will be placed in your roll-off dumpster, contact one of our expert customer care agents.
To prepare for your dumpster delivery, it's important to know where you want to place it.
Pay close attention to the dimensions of the roll-off dumpster you plan on ordering and double check the dimensions of the space where you're placing it. You want to place your 30-yard roll-off dumpster in a flat area with at least three feet of clearance around each side, 30 feet of unobstructed clearance height, and 40 feet of unobstructed space in front of the dumpster to allow for pickup.
Make sure that the driver can access the delivery area, whether that means opening gates or unlocking restricted areas. Also remove any objects that might obstruct your dumpster delivery, including automobiles and bikes.