Commercial Roll-Off Dumpster Rental
Convenient roll-off dumpster options for any project size. WIN Waste Innovations recycles as much construction and demolition debris as possible and has expert support to help you maintain your LEED certification.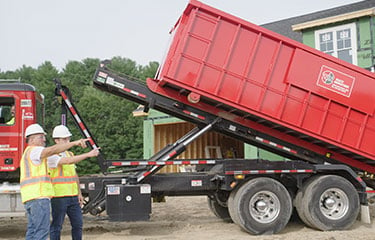 Find the Right Roll-Off Dumpster
Our large roll-off dumpster inventory allows us to offer convenient options for any project size. Not all sizes are available in all areas. Check pricing and availability for the most accurate information for your service address.
Commercial Roll-Off Dumpster FAQs
Frequently asked questions related to a commercial roll-off dumpster rental.
Hazardous, toxic, radioactive, volatile, corrosive, highly flammable, explosive, biomedical, or infectious waste are never acceptable for a roll-off dumpster. Examples include:
Aerosol cans

Liquids

Appliances

Asbestos

Batteries

Chemical products

Computers

Fluorescent bulbs

Medical waste

Propane tanks

Soil

Tires
Contact us if you're looking for a safe way to dispose of hazardous items like those above.
Massachusetts Department of Environmental Protection's (MassDEP) waste disposal bans prohibit the dumping of leaves and other yard waste as well as animal remains. Food waste is the only organic waste permitted in your bin.
WIN Waste drivers can NO LONGER accept mattresses and textiles in MA, even with a scheduled bulk pickup. Our drivers will have to leave the banned item behind. Please visit the Mass DEP website for more information.
The size you need depends on the type and amount of material you are putting in it, and the space available to place the roll-off dumpster. Contact us and our customer care team can recommend the right size based on your project's needs.
Pricing is determined by the roll-off dumpster size, type of debris (heavier materials can increase cost), and the length of rental. Contact us and our customer care team will help you find the most efficient option for your needs.
If you are placing the roll-off dumpster on your business or private home property, you generally do not need a permit. Please check with your homeowner's or neighborhood association for any restrictions. Permits may be required for placement on the street, sidewalk, or any public property.
In the event you need additional service, contact us to schedule an additional pick-up. We can increase the size and/or frequency of your service.