Leadership
Meet the leadership team driving sustainable waste solutions for the Northeast.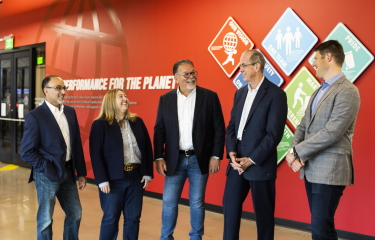 Robert "Bob" C. Boucher Jr.
President & Chief Executive Officer (CEO)
Robert "Bob" Boucher Jr. serves as the President and Chief Executive Officer (CEO) of WIN Waste Innovations (formerly Wheelabrator Technologies), where he leads a growing business representing +1,900 employees in the U.S. Bob is responsible for directing the company's strategy and establishing a vertically integrated waste management business. As CEO, Bob has built a highly functioning leadership team and has grown the business through the acquisition of eight organizations over the past two years. The company currently operates close to 50 facilities, including waste-to-energy, ash monofills, waste-by-rail, truck hauling operations, transfer stations and landfills.
Under Bob's leadership, Wheelabrator Technologies successfully grew its U.K. business from a regional office to the largest pure play waste-to-energy business in the U.K. During this time, he led the organization to achieve financial close and construction of four waste-to-energy facilities to deliver $160 million in EBITDA to the organization and completed the sale of the U.K. business to new owners in early 2021.
Bob has spent his career dedicated to the waste services industry, where he has served in progressively responsible roles. In his early career, Bob served as division manager for American Waste Systems, and later as operations manager, general manager and division president for Waste Management of Greater Boston before joining Allied Waste Industries (now Republic Services, Inc.). At Allied Waste, Bob progressed through rapid promotions during his tenure to become a regional vice president before joining Synagro as CEO and president where he led an IPO of private equity partners' shares in 2005. In 2010, Bob rejoined Republic as area president and shortly thereafter in 2011, he was promoted to EVP of operations, managing day-to-day operations of more than $8 billion of revenue annually. Most recently, he served as CEO and executive director of Transpacific Industries Group Ltd., a publicly traded waste management corporation in Australia where he was responsible for transforming the highly distressed business to garner shareholder and employee confidence.
Pamela Hobbs
Chief Human Resources Officer (CHRO)
As Chief Human Resources Officer (CHRO) of WIN Waste Innovations, Pamela Hobbs is responsible for the safety, human resources, payroll, and occupational health functions within the organization. She has a primary focus on driving a positive safety culture and results, as well as leading key human resources efforts of the talent agenda, HR service delivery, performance management, diversity and inclusion efforts, labor relations, total rewards, and policy development. As the CHRO, Pamela executes on key functional strategic priorities to drive operational excellence and support and engage employees as the business grows. An accomplished and influential executive, she brings progressive human resources, operations, business, and leadership experience from over the course of her 18-year career in the waste industry. Before joining WIN Waste Innovations, she held senior management and executive roles at Waste Management, Republic Services, and most recently the American Red Cross. She earned her Bachelor of Science in business management from the State University of New York at Brockport.
Daniel "Dan" Mayo
Chief Financial Officer (CFO)
Daniel "Dan" Mayo serves as Chief Financial Officer (CFO) for WIN Waste Innovations where he manages all aspects of the Company's financial affairs including capital raising, treasury, investor relations, forecasting/planning, accounting, risk management, and tax. In addition, Dan also oversees strategy, acquisitions and divestitures, business development, project management office, energy sales, waste pricing, procurement and supply chain, and information technology. Dan served as vice president of finance and later chief strategy officer ahead of assuming the CFO role in December 2020. Prior to joining the Company in 2018, Dan led international power company InterGen's global finance organization after working as an investment banker at Morgan Stanley and Goldman Sachs. Dan earned a bachelor's degree in finance and business law from Penn State University.
Michael "Mike" O'Friel
Senior Vice President & General Counsel
Michael "Mike" O'Friel serves as Senior Vice President and General Counsel for WIN Waste Innovations where he is responsible for all legal, environmental compliance, communications, community engagement, and governmental affairs for the business. As General Counsel, Mike oversees all legal issues associated with operations, project development, acquisitions and divestitures, environmental compliance, financings, state and federal legislative activities, and internal and external communications. Joining the WIN Waste Innovations ranks in 1991, he served in various roles within the legal department before assuming his current role as general counsel in 1999. Prior to WIN Waste Innovations, Mike worked for Nutter McClennen & Fish LLP as an associate after he earned his Juris Doctorate from Boston College Law School and an undergraduate degree in government from Harvard University.
Join Our Team
Our most valuable resources are our employees which is why job at WIN Waste is more than a job, it's a career where you can grow and thrive.